Is Victimhood Necessary for Salvation?
"Pray and make sacrifices often, for many souls go to hell, because they have no one to pray and make sacrifices for them."
Our Lady at Fatima: September 1917.
To many this seems a hard saying: Deny thyself, take up thy cross and follow Jesus. Mt. 16:24. But it will be much harder to hear that last word: Depart from me, ye cursed, into the everlasting fire. Mt. 25:41. For they who now willingly hear and follow the word of the cross, shall not then be afraid of eternal condemnation.
-- Imitation of Christ, Bk. 2, Ch. 12.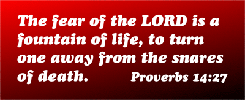 What happens when there is no victimhood? • Video 1 • Video 2 • Video 3

The fear of the Lord is the beginning of wisdom: and the knowledge of the holy is understanding. -- Proverbs 9:10
The fear of the Lord is the beginning of wisdom: a good understanding have all they that do his commandments: his praise endureth for ever. -- Psalms 111:10
---
"Only through suffering can you best carry out your desire to be a victim and thereby help the work of priests.
Through your suffering you will gain more souls than through the most brilliant sermons."
-- Our Lord to Theresa Neumann, on April 29, 1923, date of the beatification of St. Therese of Lisieux.
Taken from "You, Too, Go Into My Vineyard," by John Haffert, p. 92.
---
God needs our suffering, to be used by virtue of the Communion of Saints, to assist other souls in their redemption.
God sends the heaviest crosses to those He calls His own,
And the bitterest drops of the chalice are reserved for His friends alone.
But the blood red drops are precious, and the crosses are all gain,
For Joy is bought with Sacrifice, and the price of love is Pain.
• Back to Main Page


"The fear of the Lord is the beginning of wisdom." -- Scripture
• The Dogma of Hell, Illustrated by Facts taken from Profane and Sacred History, by Rev. F.X. Schouppe, S.J.
Story of Peter d'Airelle
March, 1913 Dear Father: This time I can write you only a few lines in pencil from my bed. Mamma has gone to Mass with Jack and Odette. I cannot go to Holy Communion today, and sometimes I am afraid I shall not be able to receive Our Lord again. I am all alone in my little blue room. After Communion last Friday it seemed to me that Jesus was saying again: "Little Peter, would you like to die to convert Daddy?" "Oh! Yes, yes!" I cried. Then I asked Our Lord to let me suffer very much for Daddy's sins. After school that afternoon, I vomited blood. The next day and the day after I did it again. The doctor came. When he had left, Mamma kissed me and cried. Then she told Jack to begin a novena with her for my recovery. But I do not want to get better. I want to die in order to see Jesus and convert Daddy. I am suffering a good deal, but I do it gladly to convert the sinners, as Our Lord did. Please pray for me when I am dead. May we meet again in heaven. -- Your little Peter March, 1913 Dear Father: It's me again. But I can't write any more. Jack is writing this letter for me. -- See complete booklet "Little Peter" available free from Atonement Booklets.
---
---
---
---
---