To download and save a book for future reading, please right click on the link and choose the option to 'Save Link As' or 'Save Target As'; then choose the folder on your computer, normally the desktop, where you wish to have the downloaded book.
The booklets are provided free of charge.
---
---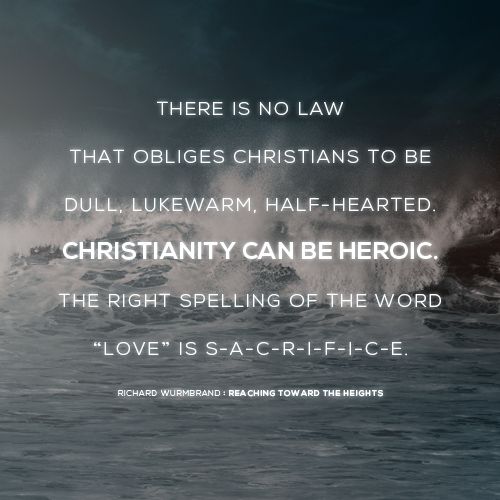 Over 40 nations unite spiritually on Sunday to pray the rosary for Our Lady's help in fighting evil
PINE BLUFF, Wisconsin, October 4, 2018 (LifeSiteNews) — Catholics in more than 40 countries across the world will unite this Sunday to fight the forces of evil prowling the earth and the Church by praying the rosary.
An effort that began as a U.S. response to Poland's flourishing Rosary at the Borders last fall has gone global with rosary rallies planned worldwide in what organizers are calling a "clarion call of the Immaculata."
The term Immaculata derives from the word immaculate, which in Catholic theology means free from sin, also denoting the Virgin Mary and the Immaculate Conception.
"This is a worldwide effort to combat the powers of darkness," the Rosary Coast to Coast website states.
Citing the myriad social ills that have befallen the culture in the U.S. and the world – including sexual hedonism, abortion, divorce, pornography and drug use – the rosary effort recalls Our Lady's appearances throughout history, where she predicted the societal decay and called for Catholics to pray in reparation.
Casualties often go unseen in this war with no borders, the initiative's information also says, but very few are left unwounded.
"The enemies encamped against us seek to rob us of our dignity – the essential dignity of the human person, being made in the image and likeness of God," it states.
"What was once done in darkness is now celebrated in the light," the rosary organizers continue. "Yet, where before we may have been blinded, God's unfathomable mercy is opening the hearts, the minds and the eyes of people of Faith. Our Lady's Clarion Call – the call once trumpeted at Quito, LaSalette, Fatima, Tre Fontane and Akita — is upon us."
Earlier this year, Catholics in the United States were invited to pray the 54-day Novena for Our Nation from the Feast of the Assumption on August 15 through the Feast of Our Lady of the Rosary on October 7, concluding with the Rosary Coast to Coast. It was the second such effort involving the novena culminating with the rosary rally on the feast of Our Lady of the Rosary.
Several U.S. cardinals and bishops have endorsed the Rosary Coast the Coast. Hundreds of U.S. sites have registered participation in the rosary rally. The initiative operates under the Mantle of Our Lady of Guadalupe, and its patrons are St. Michael the Archangel, St. Maximilian Kolbe and St. Padre Pio.
Catholics across the world have initiated several rosary rallies after Poland's successful rosary crusade last October 7, with more than a million Polish Catholics encircling their country with prayer. [More at LifeSiteNews].
---
LA CROSSE, Wisconsin, July 4, 2018 (LifeSiteNews) — National Rosary organizers from around the world are joining forces to create a new "Holy League."
There have been a number of "Holy Leagues" in history, national allies coming together to protect Christendom from its political enemies. Now, inspired by the mass rosary prayer events of recent months, the organizers of the American "Rosary Coast to Coast" have invited Catholics around the world to join them in a worldwide 54 Day Novena beginning at 4 PM (Eastern Time) on August 15, the Feast of the Assumption of the Blessed Virgin Mary, and culminating in a rosary on October 7, the Feast of the Most Holy Rosary.
"The formation of the New Holy League of Nations declares a united front in the worldwide spiritual battle, defending the dignity of the human person–life, marriage, family, as well as religious liberty," organizers of Rosary Coast to Coast stated in a press release on Tuesday.
Unlike the Holy Leagues of old, this army will not be using blades, arrows, or cannons. "This 'declaration of war' is 'not against flesh and blood; but against principalities and power, against the rulers of the world of this darkness, against the spirits of wickedness in the high places." (Ephesians 6:12)," Rosary Coast-to-Coast explained. "Together we are calling upon God, through the powerful intercession of Our Lady of the Rosary, to heal our countries and return them to Holiness."
Every group that participates is asked to choose intentions specific to their nation.
• - Novena for Our Nation (YouTube) .

• Rosary Coast to Coast (YouTube)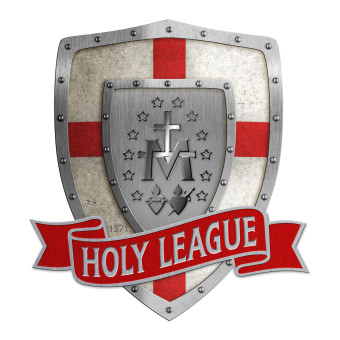 • How to Pray the 54 Day Novena • People have asked over time about the Luminous Mysteries — this novena was given by Our Lady as noted above in 1884 and only allows for the Joyful, Sorrowful and Glorious Mysteries.
---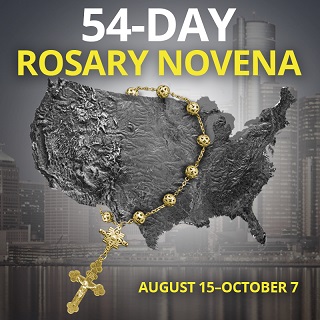 . . . . • Novena for Our Nation
• The Truth About the Second Vatican Council
---
• The End of Our Era. Mark Mallett. 19 min.
(Transcript of beginning) As we watch what is coming out of Hollywood, the television series, the movies, and so on, we can see that even among the secular group, there is an expectation of some world-changing events, that are going to turn the whole world upside down, the end of an era as we know it, or perhaps even the end of the world. And we hear so much speculation today as to what's coming, that it's going to be 2012, when everything is going to happen, and that type of thing. We hear even within Christianity, certain evangelical Christians saying that Jesus' return is imminent, that the Lord is coming, but then we also hear from other elements within Catholicism: this is not the end of the world, but the end of an era, and that there is going to be a time of peace, an era of peace, or triumph.
And so in this program I want to speak about what I believe is coming, based not upon my own opinion again, but based upon what the church tradition is saying, and what the early Church fathers and the voices within the church are telling us and have been saying for over 2,000 years, and I think we're just beginning now to recover those things, because for a long time, it seems that the whole notion, the whole talk of the end times, of the coming of Christ, has been buried in the Church, which was certainly not the spirit of St. Paul, or of St. Peter or of St. John. There was always this expectation of the parousia, the coming of Our Lord. etc. etc.
• Great Shaking, Great Awakening. by Mark Mallett. 16 min.
• The Final Confrontation: Mark Mallett. 13 min.
Disclaimer. Atonement Booklets does not necessarily agree with opinions expressed in other websites or videos.
• Reparation or Chastisement: the Choice is Ours. 54 min.
(Partial Transcript). There is a restaurant and bar in Maryland, near Baltimore, to be exact; it is called the Ale Mary, A-L-E Mary. This inappropriate name is just the tip of the iceberg, when it comes to blasphemy. You see, inside the bar, you have, in addition to the liquor, the wine, and glasses, a series of chalices, that can be used by patrons as the vessel of choice, as they down their draft beers and margaritas. Besides old chalices, the bar also has a monstrance, a monstrance near the whiskey, that is strewn with mardi gras beads. At one time the luna, that had held the Blessed Sacrament, but now this little window in the monstrance, has a picture of a smiley face with a moustache. Many of the restaurants throughout this country and Europe, also use old church items, including bars made from actual altars, and communion rails, as well as rare bases, used to display expensive brandys, instead of various devotional statues.
Listen, o western world; wake up, Christian West, the handwriting is on the wall. In ancient days, the Babylonian king Belshazzar ate and drank with his lords and ladies, using golden vessels from the temple used in Jerusalem. Then, after this blasphemy, a mysterious hand, a floating hand, appeared. And that hand began to write a message upon the wall, where the king was. The strange message was about the nation's coming destruction. The message read: Mene Tekel Peres. The prophet Daniel was then called in to decipher the words, and with divine enlightenment Daniel warned the Babylonian king, "Your days are numbered. You have been weighed in the balance, and you have been found wanting. Your kingdom will be divided, and it will be conquered. You have blasphemed the Lord, yet no one is making reparation. Therefore there is no mercy for you."
The modern world is now in a similar predicament, with blasphemies aimed at the good Lord and at Our Lady, as well as so much ingratitude, and indifference toward their loving care. Reparation must be done now, if we are going to receive the mercy of God. Modern man is always speaking about himself, about his rights. etc.
• The Coming Chastisement. 1 hr. 3 min.
(Partial Transcript). When you start talking about chastisement, many times people think you are a little kooky, a little bit wacko, what do you mean, chastisement? You get the impression, sometimes, that the main-stream would not agree with that idea, that God will be punishing the earth. And in order to dispel that a little bit, I want to just mention that in the years that I've worked with this organization, Tradition, Family and Property, one of the functions that I've done is the Fatima statue custodian, which means we take a big statue of Our Lady, we travel around and go into different houses, and promote the Fatima message. We talk about why Fatima is important. While I was doing that, ..... the message of Fatima predicts that there will be a chastisement coming upon mankind. ... ....
Just in a nutshell, the idea is this: that it is not merciful to allow mankind to continue sinning and destroying itself. And if the only means to turn society around, is that God punishes the world, that punishment is an act of mercy. Just like a parent punishing the child, who is going to get himself into trouble, if he keeps going the way he is. It is an act of justice, but also of mercy. ... ...
= = = = = = = = = = = = =
---
How Can One Become a Victim Soul?
Jesus speaks: "Every age had its own forms of piety. … The Church was bent amidst the agitated waves of the world. Virgins and consecrated souls lived among the pagan crowds, carrying into them the perfume of Christ with which they were saturated, and thus they conquered the world for Christ.
Then came the epoch of austere divisions. According the views of that time, to achieve perfection, and contribute to the continuous redemption of souls, it was necessary to withdraw oneself from the world. From monasteries, from hermitages, from walled cells, rivers of sacrifices and prayers spread across the earth, flowed down to Purgatory and rose to Heaven.
Later came the convents dedicated to an active life. Hospitals, asylums, schools, benefited from this new manifestation of Christian religion.
But now, in a world that has become pagan with an even more cruel paganism, because more diabolically subtle, consecrated souls who live in the world are needed as during the first period of My Church, in order to perfume the world with Me again. They sum up in themselves both the active and contemplative life in one word: Victim.
How many victims this poor world needs in order to obtain mercy! If mankind would only listen to Me, I would give every single person My loving command: Make sacrifice and do penance, to be saved! But only My victims understand how to imitate Me in self-sacrifice, which is the supreme form of love.
What did I say? From this they will know that you are My disciples: if you love one another mutually … There is no greater love than this, to give up one's life for one's friends. [Jn. 15:13]
Victim-Souls have raised love up to the degree that it assumes a form similar to Mine. Victim-souls sacrifice themselves for My sake because I am in souls, and whosoever saves a soul, saves Me in that soul.
Therefore there is no greater love for Me than to immolate yourself for Me, your Friend, and for the poor sinful souls that are our lapsed friends. I say: "our" because when there is a loving soul, God is also there with her, and so we are two.
Many a time, you think regretfully about an enclosed life. But reflect, My dear soul, that being a victim-soul makes you like the most austere of cloistered nuns. The victim-soul adores, the victim-soul expiates, the victim-soul prays. The prayer of a victim-soul is equal to that of a cloistered nun, but with the added difficulty of having to live a life of prayer in the midst of the distractions of the world.
Even in this, I am your example. I, Victim-soul too, knew how to adore, pray, expiate, while in the world. One can be a victim-soul of highest perfection even while standing in the middle of a crowd. One might not have such a high standard of perfection even while living behind the seal of a double grating. Here also it is love that counts, not the exterior forms.
How can one become a victim-soul? By living with one unique thought in mind: that of consoling Me by redeeming souls. Souls are redeemed by sacrifice. But I am consoled by love, and by enkindling love in hearts, where it was extinguished. The life of a victim-soul is a life of never belonging to oneself again, a life of constant self-giving, a life of being incessantly on fire.
And to those who are able to live like this is granted the Invisible Presence, which you too enjoy. Wherever My apostles and My martyrs are, I am there also. And victim-souls are martyrs and apostles."
What Is Victimhood to the Divine Justice?
Hereby we perceive the love of God, because he laid down his life for us: and we ought to lay down our lives for the brethren. -- 1 John 3:16
---
Concerning the Offering to Divine Justice, in union with Jesus, Victim, let us say in summary, that this victimhood implies what the Apostle St. Paul wanted to express when he writes: "I now rejoice in my sufferings for you, and fill up those things that are wanting of the sufferings of Christ, in my flesh, for His body, which is the Church." (Colossians 1:24)
That is: to offer the soul as a victim to Divine Justice is to second the work of Christ as Redeemer of the world, the work, par excellence, of the Son of God. It is to follow in the blessed footsteps of Jesus, and to unite oneself to His immolation, from the manger to the Cross, and from the Cross of Calvary to the Cross of His mystical life in the Sacrament of the Eucharist.
In order that the soul make this total offering and consecrate itself as a victim with Jesus to Divine Justice, it is not enough to recite the formula. It is necessary to understand it and, above all, to perceive it. See booklet: Legion of Victim Souls. -- Download PDF -- Download TXT - - Legion of Victim Souls
Will victimhood help save the souls of your relatives? * * Is victimhood necessary for salvation?
---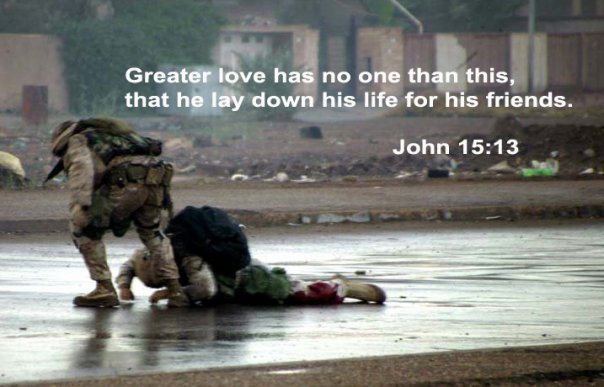 God needs our suffering, to be used by virtue of the Communion of Saints, to assist other souls in their redemption.
God sends the heaviest crosses to those He calls His own,
And the bitterest drops of the chalice are reserved for His friends alone.
But the blood red drops are precious, and the crosses are all gain,
For Joy is bought with Sacrifice, and the price of love is Pain.
---
Writings of Atonement in General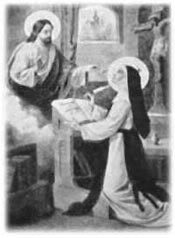 New! God Speaks to the Soul. A synthesis of messages to Justine Klotz (1888--1984). -- Download PDF
God Speaks to the Soul. Excerpts of Booklets no. 1--8. Messages to Justine Klotz. -- Download PDF
Following His Footsteps, by Anselmo del Alamo -- Download TXT ---- Download PDF4 pages -
Little Peter, by Peter d'Airelle --- Download PDF 12 pages-- How a child in France offered to die, in order to save his father.
A Treasury of Atonement (anonymous) -- Download PDF 12 pages --
Reparation is a Fundamental Obligation of Christianity (8 pages) by Raoul Plus, S.J. -- written in 1921. Download PDF
How We Can Make Reparation, by Leading a Simple Christian Life, by Raoul Plus, S.J. Download PDF


* Rosary Meditations from the City of God by Agreda. 12 pages-- Download PDF
Rosary Meditations: printed booklet. One free copy will be sent to anyone who requests it.
The Descent of Christ into Hell, by Mary of Agreda -- Download PDF 4 pages--
Last Will and Testament of Christ -- Download TXT -- Taken from "The Mystical City of God" --

Mystical City of God, by Agreda. Part 1. -- Download PDF
Mystical City of God, by Agreda. Part 2. -- Download PDF
Mystical City of God, by Agreda. Part 3. -- Download PDF
The Passion of Our Lord, by Agreda. -- Download PDF
Octavio Michelini (14 August 1906 - 15 October 1979) of Mirandola, Italy was an Italian Roman Catholic Priest, considered to be a mystic. In 1975 he began to publish books pertaining to his visions of Jesus and Mary. Attached are the six volumes. He wrote many things about the Priesthood, evils within the church, the world, and Vatican 11.
Click the link below, to access: Confidences of Jesus to a Priest, by Octavio Michelini

The Life and Revelations of St. Gertrude the Great -- Download PDF --
Father Octavio Michelini: Confidences of Jesus to a Priest. 6 volumes in one file. 884 pages. Download PDF
---
- The End of This Satanic Age, by Stephen Foglein (11 page booklet). Download PDF 4 pages--


• The Victory of Our Lady. Chapter 9: The Time of One Fold and One Pastor, by Stephen Foglein, M.S.


What Do We Know About Our Future: HEAVEN, HELL, PURGATORY by Stephen A. Foglein, MS. A fresh new space age look at these ancient mysteries. It's a must for those who value eternal life! When was the last time you heard about them? What about your children? More exciting than science fiction.

May the Virgin of Perpetual Help be loved, praised, invoked and eternally blessed!
May She be my hope, my love, my Mother, my refuge and my life. Amen.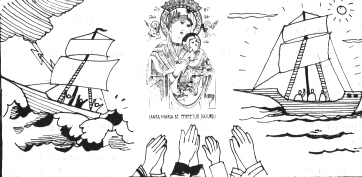 • Novena to Our Lady of Perpetual Help:
1 - 2 - 3 --- 4 - 5 - 6 --- 7 - 8 - 9 - Our Lady of Perpetual Help (Wikipedia)
The Glories of Mary, by St. Alphonsus de Liguori
---
Collection of Prophecies and warnings about the latter times
---
St. Raphael Oil -- A Blessed Sacramental
Reality of Hell -- Apparitions of Condemned Souls
---
• Julian of Norwich:. . Quotations. ---
• St. Julian's Church and Shrine. . . --- Norwich, England.

Purgatory, Illustrated by the lives and legends of the saints, by Rev. F.X. Schouppe. Download PDF
---
Saint Augustin, by Louis Bertrand -- Download PDF ---
Victimhood of Little Souls to the Divine Justice ---
The Secret Revealed: The Trail of Tears --- How a woman in Latin America faced a difficult situation --
Unceasing Act of Love 4 pages--- by Sister Consolata --
Rejoicing in God --- Commentary on the Magnificat -- St. Louis de Montfort recommends Magnificat to devotees of Mary
The Sacred Journey of Paula --- by St. Jerome --how Paula traveled to holy places in Palestine and Egypt, plus a quotation from the Mystical City of God by Agreda
His Kingdom Will Come -- His Enemies Dashed in Pieces -- "Those that will not bow will break."
The Greatest Book of All the Ages 4 pages--- An introduction to the Bible, plus "My Daily Prayer."
Bible Resources El Libro Mas Grande de Todos los Siglos 4 paginas--- Introduccion al Estudio de la Sagrada Biblia
Norwich and the Scriptures (booklet) -- Download PDF --
The Dearworthy Blood of Our Lord, by Julian of Norwich -- Download PDF --
Revelations of Divine Love, by Julian of Norwich. -- Download PDF --
Imitation of Christ, by Kempis -- Download PDF -- Download TXT --

"With respect to the life of perfection, it is just as you have grasped it this morning. Let people be guided by the book written by my very beloved son, Thomas a Kempis. He entitled his writings 'The Imitation of Christ,' by an order that I gave him, because he wrote these marvelous pages by the light of my spirit." -- Our Lord to Maria Concepcion Zuniga: Nov. 14, 1973

Imitacion de Cristo, por Tomas de Kempis --- Descargar PDF --
Tratado de la Verdadera Devocion a la Santisima Virgen, por San Luis de Montfort --- Descargar doc --(archivo Word)


The Bible Proves the Teachings of the Catholic Church -- Download PDF --
The Tumbler of Our Lady, by Hugh O'Reilly -- Download PDF --
Teachings of the Saints in Their Own Words -- Download PDF --written in 1905 by a parish priest
Praise of Glory and Letters, by Blessed Elizabeth of the Trinity -- Download PDF
Life of Brother Giles --with 3 illustrations
Life of St. Francis (Selections) --with illustrations
Life of St. Francis (2) -- with illustrations
Youth and Conversion of St. Francis of Assisi -- with 20 illustrations: allow time to load
St. Paul and St. Francis Were Victims --
The Prophecies of Fatima Are Being Fulfilled Now -- Download PDF --
Our Lady of Fatima's Plea for Sacrifice -- Download PDF --
A String of Spiritual Jewels, by Louis of Blois (1566) -- Download PDF --(the first 2 chapters) --
Those Who Serve God Should Not Follow the Fashions, by Robert Hart -- Download PDF --Note: it is a large file, 1,074 Kb.
Sermons of St. John Vianney, the Cure of Ars -- Download PDF --
The Dogma of Hell, by Rev. F.X. Schouppe, S.J. -- Download RTF --
St. Michael's Well. --St. Michael's Well -- The story of how St. Michael appeared to the Indian Diego Lazaro in Tlaxcala, Mexico.
The Life and Legends of St. Francis of Assisi, by Fr. Candide Chalippe, OFM. Written in 1727. This is a full-length book, 514 pages. (900 KB). It takes about 5 minutes to download. --- Download PDF
The Eternal Happiness of the Saints, by St. Robert Bellarmine. -- Download PDF (698 KB) --
Warnings from Beyond, to the Contemporary Church. Revelations made during exorcisms from 1975-78. --Download TXT --
How Saint Catherine Prayed --
He and I, by Gabrielle Bossis -- Download PDF --
Precious Blood of Jesus Daily Devotional -- Download PDF --
Miraculous Intercession of the Virgin Mary to Prisoner Claude Newman -- Download PDF --
Guide for Victim Souls of the Sacred Heart of Jesus -- Download PDF
Conversion of Scott Hahn -- Conversion of Scott Hahn -- How a Presbyterian minister was converted to the Catholic Church
Holy Water by Rev. Herm. Fischer, S.V.D. -- 10 pages.

- Eastern Orthodox Church
Lives of the Desert Fathers -- Download PDF --
Conferences of John Cassian -- Download PDF --
Zosimo y Maria Egipciaca -- Zosimo y Maria Egipciaca
Zosimus and Mary of Egypt -- Zosimus and Mary of Egypt
A Miraculous Cross in the Sky -- Miraculous Cross Appears in the Year 351
St. Seraphim of Sarov's Conversation With Nicholas Motovilov -- Download PDF --
Winning the Battle against Temptation -- Winning the Battle Against Temptation -- by Jason Liske
Judge Nothing Before the Time -- Wheat and Chaff on the Threshing Floor of the Catholic Church, by St. Augustine
* * *
St. Therese of Lisieux: Autobiography -- Download PDF
Historia de Un Alma, por Santa Teresita de Lisieux. -- Descargar PDF
Article about Communion in the Hand -- Communion in the Hand
Conchita: A Mother's Spiritual Diary, by Marie-Michel Philipon, O.P. -- Download PDF -- The life of Concepcion Cabrera de Armida.

Spiritual Works of Louis of Blois, Abbot of Liesse. 1506--1566. Also known as Blosius
The Rule of the Spiritual Life. 38 chapters.
The Spiritual Mirror. 14 chapters
String of Spiritual Jewels. 14 chapters
Available on one file: [1,985 KB] -- Download PDF --
---




Writings of Josefa Menendez


A Cup of Cold Water -- A Cup of Cold Water (Value of Daily Actions) --
More Precious Than Gold, Part 1 -- Download PDF --
More Precious Than Gold, Part 2 -- Download PDF --
Three Recommendations -- Three Recommendations
Josefa Menendez: Way of Divine Love. Part 1. -- Download PDF

Writings of Maria Concepcion Zuniga


Legion of Victim Souls -- Download TXT ---- Download PDF 56 pages --
Penitential Rosary -- Download TXT -- Download PDF 16 pages-- Explains the value of praying with arms in the form of a cross
My Best Book -- Download PDF 32 pages-- Download TXT
Laments of Jesus, Victim -- Download PDF 43 Pages. -- Download TXT
Warnings and Voices from Beyond the Grave -- Download TXT 16 pages-- Warnings and Voices from Beyond the Grave
How My Father Was Converted
Words of Christ to a Soul: 1932 -- Download PDF 7 Pages.
Message of April 5, 1970 -- With a report of a grace received, and a painting of "The Blessed Virgin as a Child," by Francisco Zurbarán. "This picture has earned eternal salvation for its author and for many souls." (words of Christ to Maria Concepcion, Apr. 5, 1970)
---
My Best Book: Chapters 1 -- 4
My Best Book: Chapters 5 -- 8
My Best Book: Chapters 9 -- 12

---
Order Form. For the list of printed booklets, go to List of Publications. -- This page may be printed out and used as an order form. Contact Information. Atonement Booklets, San Diego, CA • editor@atonementbooklets.20m.com
List of Publications in text format. Click here.
Testimonials
About Legion of Victim Souls
"The height of sanctity, the summit of an atoning soul, the essence of perfection: I'm just overwhelmed. I thank God for this book, for now I can carry my cross with pleasure." -- Mrs. Nakama, Tokyo, Japan
"Reading this book was as if I were learning my faith for the first time." -- Mr. T.C,. Massachusetts, USA
---
(about Penitential Rosary)
"After praying the Rosary like this, now I understand how much Jesus suffered for us on the cross." Mr. N.K., Nigeria
Value of Praying with Arms in the form of a Cross
On one occasion during Lent, St. Gertrude asked our Lord how our actions may be acceptable. He replied:
"They would be so, if your fasts, vigils, and regular discipline were performed in memory of My Passion, and were offered to Me in union with the mortification of My senses which I have practiced during My Passion."
"Ah!" exclaimed Gertrude, "teach me, O best of teachers, how to perform even one action perfectly in memory of Thy passion." Our Lord replied: "When you are praying, extend your arms to represent the manner in which I extended Mine to God My Father in My Passion; and do this for the salvation of every member of the Church, in union with the love with which I stretched out My arms upon the cross." "If I do this," she replied, "I must hide myself in a corner, for it is far from being customary." Our Lord replied: "If any one prays thus with his hands extended, without fear of contradiction, he pays Me the same honour as one would do, who solemnly enthroned a king."
Revelations of St. Gertrude, Book 4. Ch. 13.
"I am one of the million people who have been inspired by Maria Concepcion Zuniga, her simplicity, compassion and her love to Jesus. I also want to share her life with others for inspiration. I have also a friend who suffers a serious disease in the hospital, and I want to share with him the novena prayer for an intention of healing. Please do respond. I've read about the free Prayer Card, and a relic. Can I ask at least a small part of it?" --G.N., Mindanao, Philippines
---
---
---
To download a booklet, right click on the link, then select "Save target as..."
These booklets are in the public domain. They may be copied, reproduced and distributed by anyone.
-- Please read these booklets, and put them into practice, if you have the opportunity.
Our Lord promised special graces for those who read these heavenly writings with uprightness of intention.

---
"Read this text (Legion of Victim Souls) with a simple and proper spirit, and I promise to give you the graces necessary to participate in the work of atonement. I, Christ, your Redeemer and Master, promise it to you.
This is the last revelation my Victim Heart makes to men.
My peace be with all those who believe in my messages given through your mediation.
I am honored and served by those who believe me."
---- Our Lord to Maria Concepcion Zuniga. 1973.
"Grace will accompany my words, and those who make them known." --- Our Lord to Josefa Menendez. 1923.
---
For the list of printed booklets, go to List of Publications. -- This page may be printed out and used as an order form. Contact Information. Atonement Booklets • editor@atonementbooklets.20m.com
List of Publications in text format. Click here.
---
Treasury of Latin Prayers

Traditional Catholic Prayers & Devotions in Latin and English
---
• 50 Years After Vatican Council II. 30 min.
• The Effects of Vatican II. 25 min.
• Why the New Mass and New Rite? 38 min.
The Latter Times: Great Monarch and Angelic Pontiff, who would restore the Faith and root out heresies.
But first will come chastisements, if the world does not convert and seek God.
In 1884 Jesus told Marie-Julie: "The chastisements will be common in the world to swell up, and will succeed one another ceaselessly."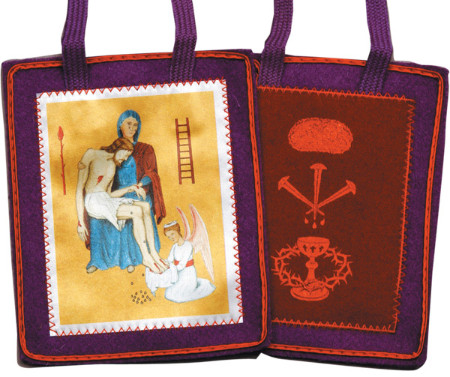 The Scapular of Benediction and Protection
This powerful scapular is a privilege offered by Our Lord and Our Lady to lead us throught the terrible times when the world will face the Holy Wrath of God. Not only is the wearing of this scapular strongly recommended, but its exposition in our chapels and houses will give special protection.
---
How to Organize TXT and PDF files
Most programs automatically save files to the My Documents folder. You do not have to store your files here, but it is a good idea.
You may create folders within folders, if you want to organize a large number of files. Click on "My Documents" icon and then go to "File and Folder Tasks" and click on "Make a New Folder." Then choose a name for the folder, for example, "Atonement," "Josefa Menendez", "Maria Concepcion Zuniga", etc. -- Names can be up to 255 characters long. -- Download the file onto the directory that fits the category. If you already have downloaded a file and it is in the My Documents folder, you can move the file to a new directory.
Click on the My Documents icon. Then select the file you want to move. Then click on "File and Folder Tasks", -- "Move this file." Then follow the instructions on the screen.
Rename to maintain order
If the name of a folder or file is not clear, you may rename it. For example, if a file is named penros.txt, you may rename it: penitential_rosary.txt. It is permitted to make long names (up to 255 characters). For example, if a file is named legion.pdf, you may rename it legion_of_victim_souls.pdf
Select the file you want to rename. Then click on "Rename this file" in "File and Folder Tasks."
---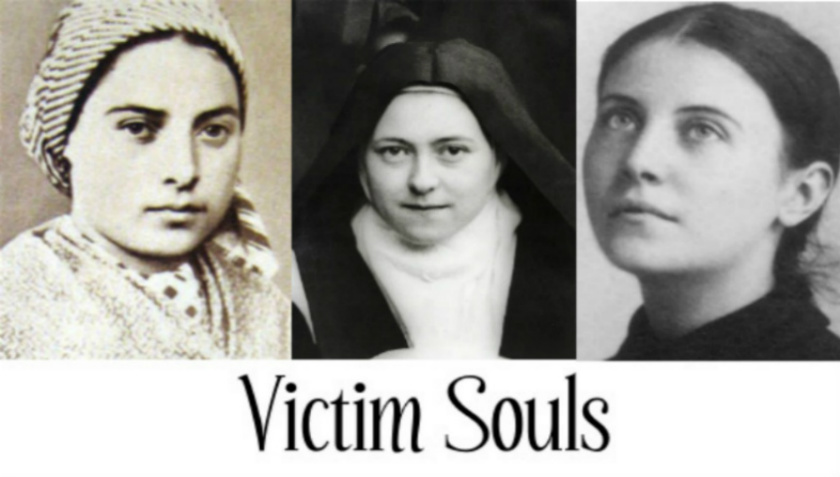 . . . . • The Privilege of the Victim Soul. 3 min.
Franciscan Minims. Legion of victim souls. Villa de Guadalupe, Mexico City.
There are victim souls in Latin America, North America, Europe, Africa and Asia: men and women, laity, religious and clergy.
---

The Greatest Book of All the Ages
-- An Introduction to the Holy Bible
---